49 Key Casio CTK-240 Standard Keyboard Piano 100 Tones 100 rhythms 50 Song LCD Melody (on/off)
Price

RM424.00

RM516.50

Product SKU
CTK-240
Brand
Casio
Size (L x W x H)
100 cm x 30 cm x 8 cm
Availability
In Stock
Quantity
Description
Highlight
49 Key Casio, CTK-240 Standard Keyboard Piano, 100 Tones, 100 rhythms, 50 Song, LCD Melody (on/off) , Power Requirements Batteries: AA-size x 6/Optional. AC adaptor: LAD-6
Dimensions (W x D x H) 914 x 237 x 75mm * Excluding music stand, and other projections , Weight 2.8kg (Excluding batteries) , External power (9.5V DC)Input/Output Terminals Headphones/output (standard stereo jack)
Controllers: Start/Stop, Synchro/Fill-inAuto Accompaniment Modes: CASIO Chord, Fingered

Input/Output Terminals : Input/Output Terminals Headphones/output (standard stereo jack)External power (9.5V DC)

Power Requirements : Batteries: AA-size x 6/Optional AC adaptor: LAD-6
Weight : 2.8kg (Excluding batteries)
Specification
Keyboard

49 full-size keys

Maximum Polyphony

12

Tones

100 built-in tones

Rhythms/Patterns

100 built-in rhythms

Auto Accompaniment

Modes: CASIO Chord, Fingered

Controllers: Start/Stop, Synchro/Fill-in

Built-in Songs

50 (Song Bank)

Lesson Function

Melody on/off (Lesson part: Melody part)

Other Functions

Song bank controller

Key Transpose

12 steps (-6 to +5 semitones)

Tuning Control

A4 = approximatery 440 Hz ± 50 cents

Display Screen

LCD

Speakers

10cm x 2

Amp Output

1.6W+1.6W

Input/Output Terminals

Headphones/output (standard stereo jack)

External power (9.5V DC)

Power Requirements

Batteries: AA-size x 6/Optional AC adaptor: LAD-6

Dimensions (W x D x H)

914 x 237 x 75mm
* Excluding music stand, and other projections

Weight

2.8kg (Excluding batteries)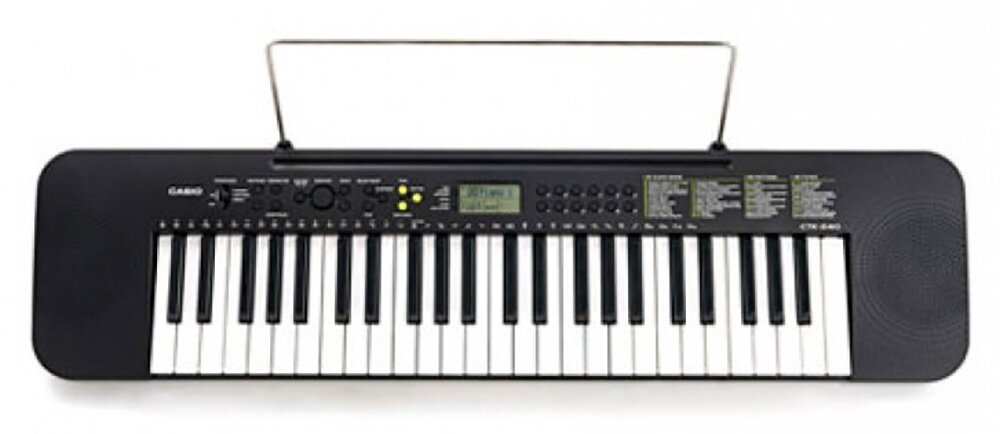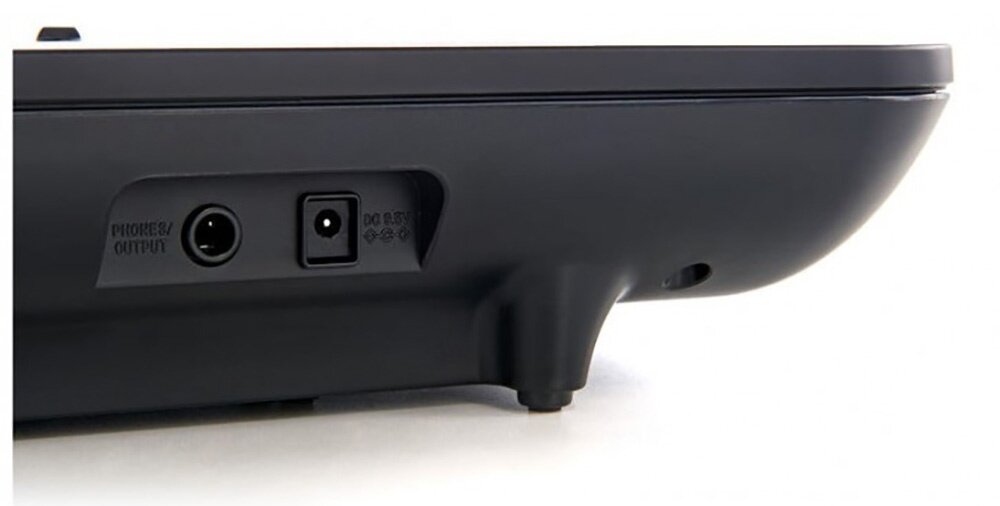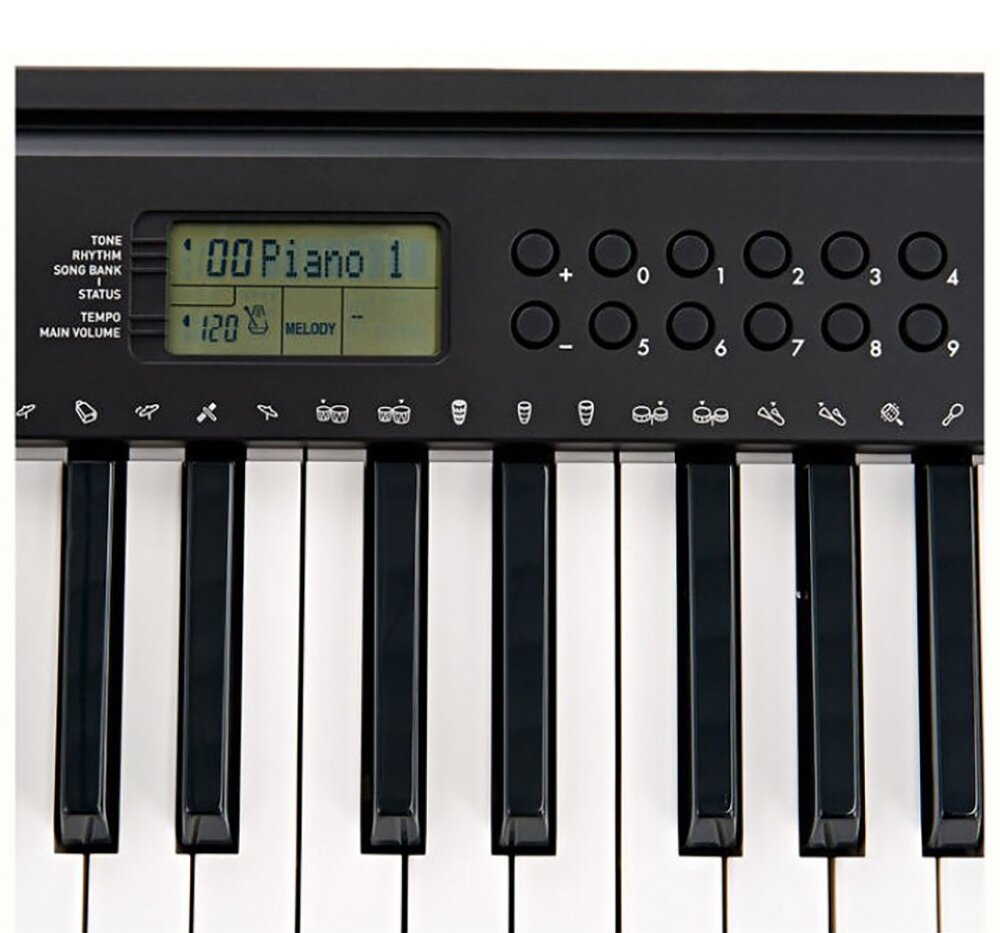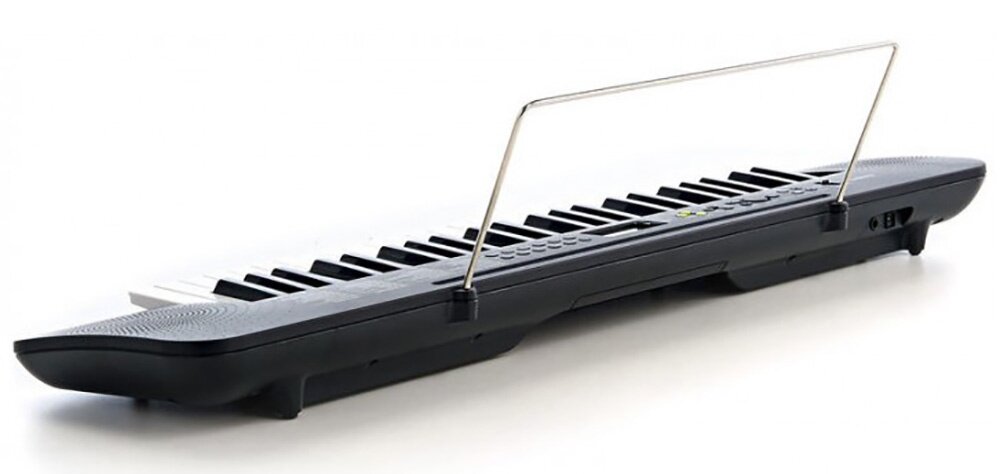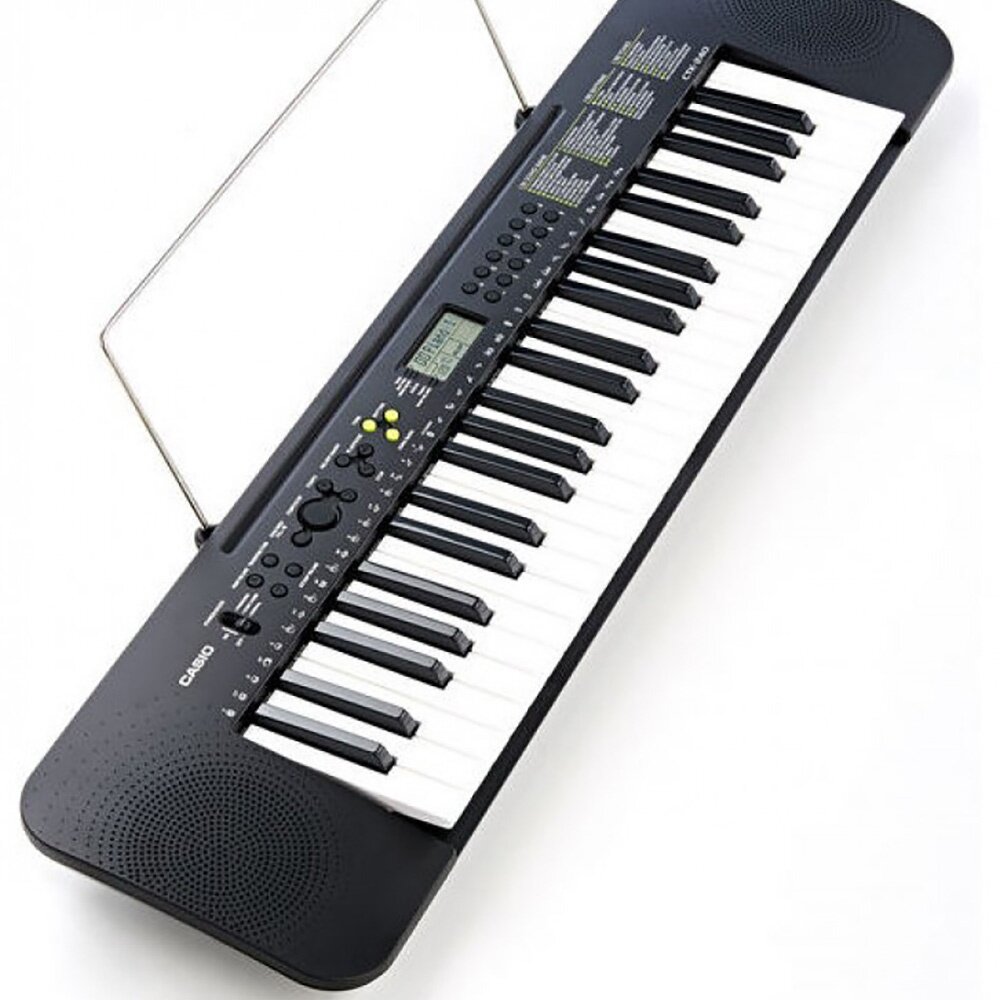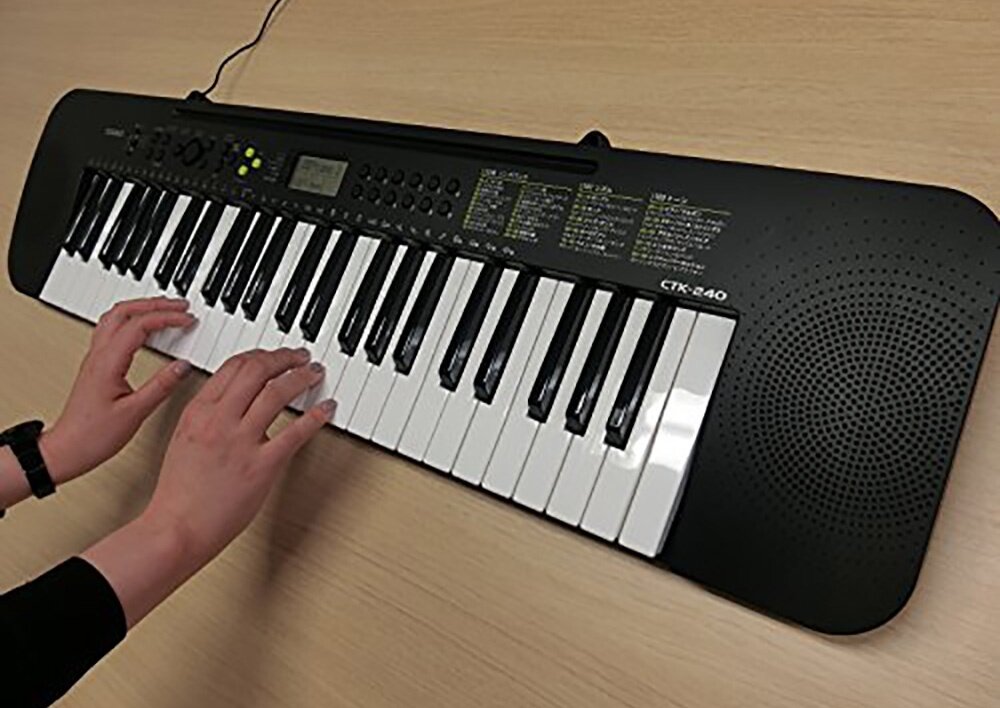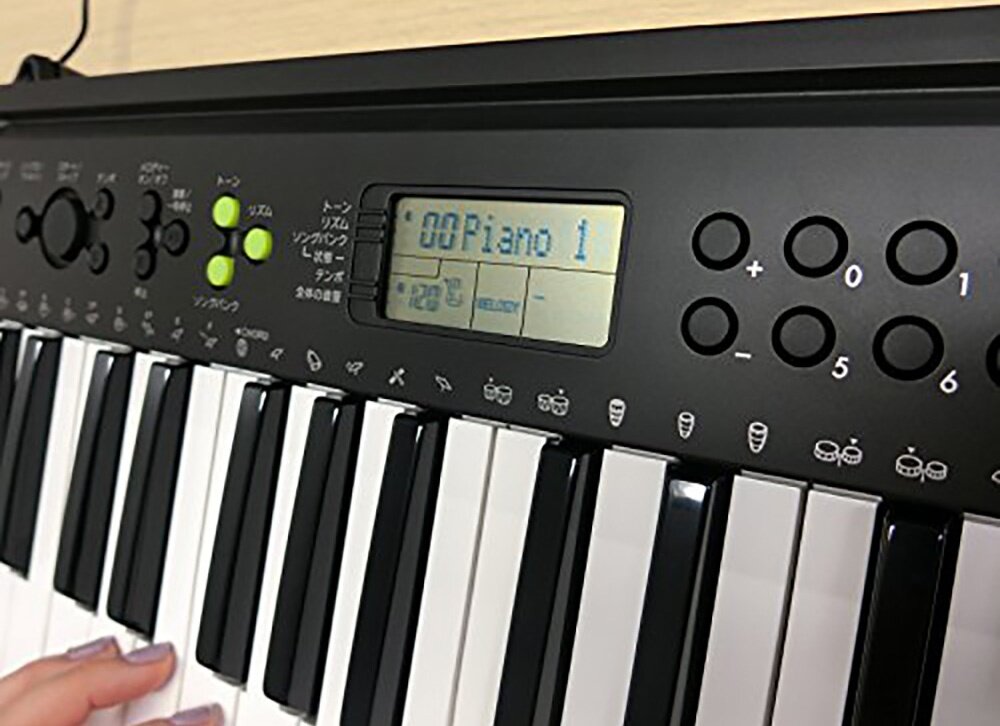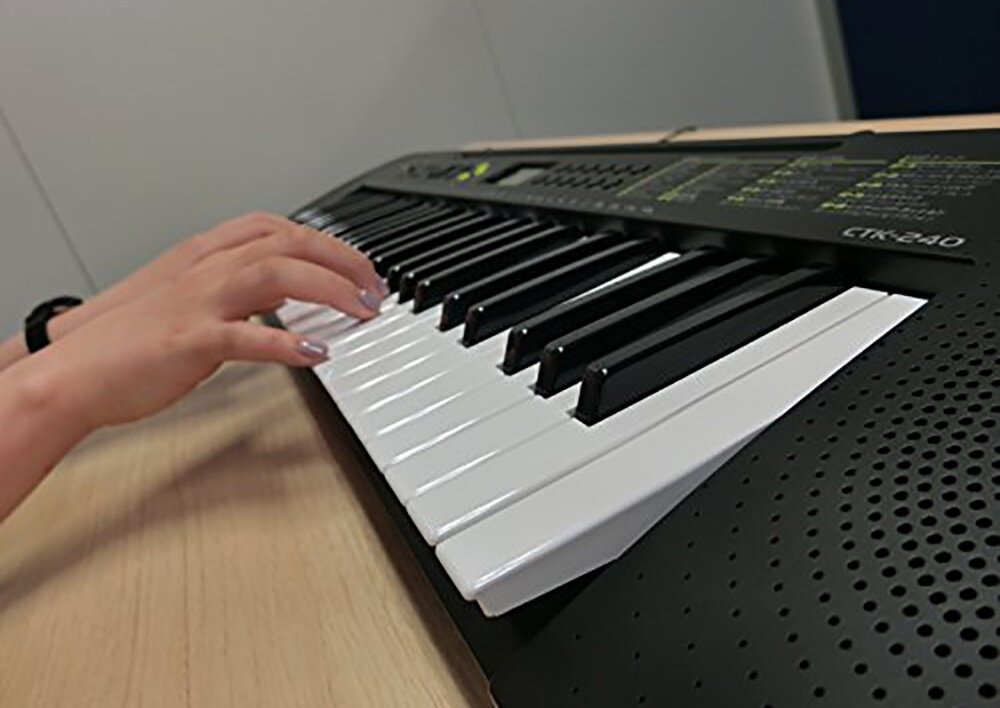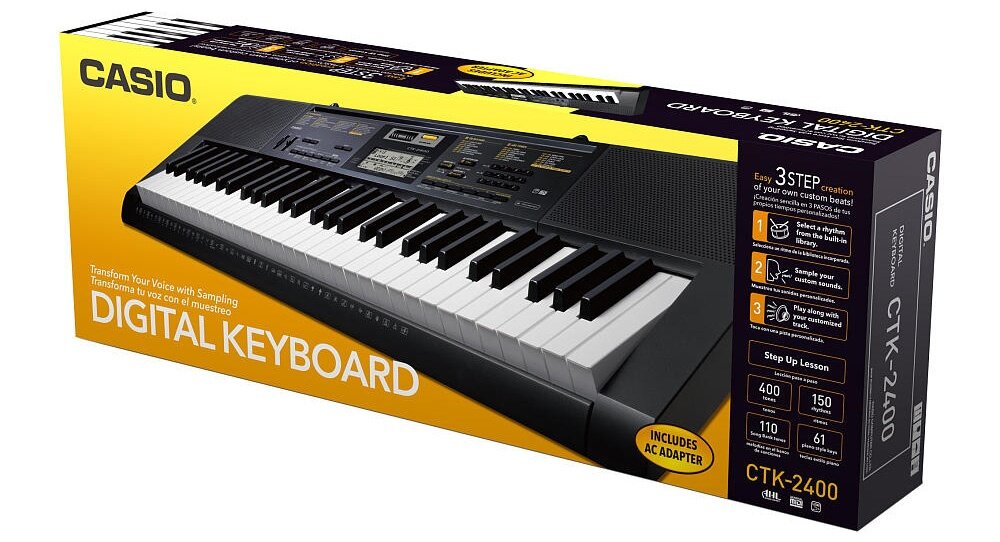 Built-in Songs
TWINKLE TWINKLE LITTLE STAR
GRANDFATHER'S CLOCK
WHEN THE SAINTS GO MARCHING IN
WE WISH YOU A MERRY CHRISTMAS
JINGLE BELLS
SILENT NIGHT
O CHRISTMAS TREE
GREENSLEEVES
AMAZING GRACE
AULD LANG SYNE
ACH DU LIEBER AUGUSTIN
LONDON BRIDGE
J'AI PERDU LE DO DE MA CLARINETTE
SUR LE PONT D'AVIGNON
I'VE BEEN WORKING ON THE RAILROAD
LITTLE BROWN JUG
LONG LONG AGO
SIPPIN' CIDER THROUGH A STRAW
UNDER THE SPREADING CHESTNUT TREE
SUMM SUMM SUMM
DANNY BOY
MY DARLING CLEMENTINE
HOUSE OF THE RISING SUN
AURA LEE
WHEN JOHNNY COMES MARCHING HOME
SWANEE RIVER (OLD FOLKS AT HOME)
YANKEE DOODLE
HOME ON THE RANGE
OH! SUSANNA
BEAUTIFUL DREAMER
TURKEY IN THE STRAW
ALOHA OE
JAMAICA FAREWELL
LA CUCARACHA
LA PALOMA
TROIKA
SZLA DZIEWECZKA
WALTZING MATILDA
AJO MAMMA
RASA SAYANG
ODE TO JOY
BRIDAL MARCH FROM "LOHENGRIN"
AIR FROM "SUITE no.3"
SCENE FROM "SWAN LAKE"
MARCH FROM "THE NUTCRACKER"
TRIUMPHAL MARCH FROM "AIDA"
TOY SYMPHONY
SERENADE FROM "EINE KLEINE NACHTMUSIK"
CHANSON DU TOREADOR FROM "CARMEN"
SPRING FROM "THE FOUR SEASONS"
特色介紹
鍵盤

49個標準鍵

最大複音數

12

音色

100種內建音色

節奏

100種內建節奏

自動伴奏

.模式: CASIO 和弦, 指法和弦
.控制器: 開始/停止, 同步/間奏

內建樂曲

50首(歌曲庫)

教學功能

旋律開啟/關閉 ( 教學分部: 旋律部份)

其它功能

歌曲控制器

移調

12 步 ( -6 ~ + 5 半音)

微調控制

A4 = 約440Hz±50半音

顯示

液晶螢幕

喇叭

10cm x 2

輸出功率

1.6W + 1.6W

輸入/輸出端子

.耳機
.外接電源 ( 9.5V 直流)

使用電源

電池:Dx6顆 / AC變壓器:AD-E95100L (另購)

尺寸 (W x D x H)

914 x 237 x 75 mm
* 不含琴譜架與其它突出部

重量

2.8kg (不含電池)
Seller note
Each CASIO musical instruments sold by us is genuine, authentic, bona fide goods come with 12 months local distributor warranty (excluded: accessories & spare parts).
These products are not grey imported, used, refurbished, discounted clearance items or items came from unknown source.
We provide official warranty certificate for each CASIO musical instrument sold by us for you to assure you of a completely hassle free and worry free ownership experience.
Delivery
Immediate purchase order handling and secure fast shipping is our commitment to our customer. All items will be shipped within 2-3 working days after we received the cleared payment notifications except for weekend or public holiday. We ship out all items by using Skynet and Poslaju courier service by default.
Delivery cut off time is 10am. Any payment made before 10am we will courier your item out on same working day. Otherwise will be courier out the next working day.
Please contact us if your item not received after 3 working days by email us at: neo123store@gmail.com or WhatsApp/Line/Viber/SMS: 017 221 1680
For latest Skynet delivery status, please check at official Skynet Tracking Site: http://www.skynet.com.my/
Stock Availability
In the event of non-stock availability for a specific order, seller would contact buyer for decision to be placed on backorder or to proceed with a full-refund thus not wasting any time for both parties.
Risk of Loss
All items purchased are made pursuant to a shipment contract. This means that the risk of loss and title for such items are passed to you upon our delivery to the courier service.
Payment
Credit card our preferred payment method for Local customer. Please provide the following IMPORTANT information's to us when you made your payment.
1. Your FULL NAME
Your Full Delivery / Shipping Address - Must provide your postal code.
Your Telephone Numbers - The Courier Company / Mail Company will try to contact you first before they deliver to your doorsteps. And also, the seller may contact you directly if there is any issue with your orders. The seller will not bear the responsibilities if the item is sent to your outdated address or delay in shipment due to missing your postal code or telephone numbers contact.
About Us
We offer variety of products include toys, Bicycle accessories, Musical accessories, collectible items and lots of the hot wanted products on marketplaces. We are working close with Local Courier Company so that we can offer FAST and SECURE Delivery service to our nationwide customer at very attractive rates!
All the products we selling on local and international site are acquired from licensed local distributor and it is genuine from manufacturer. Some products are source directly from warehouse clearances sale that why we can offer such a low price compare to others. We are very concern about our product quality, because customer satisfaction is our top priority!
We also very concern about the product shipping packaging. Extra care protective packaging is what we practicing all the time, because we want you to receive your valued item in perfect conditions.
Finally we would like to thank you all customer for their kindly support, we appreciate your feedback and we always customer comment and criticism seriously. Your sincere feedback helps us to improve our services to serve you better in the future.
Contact Us
Email: neo123store@gmail.com
WhatsApp/Line/Viber/SMS: 017 221 1680
Call Operation Hour: Monday - Friday 10am - 5pm
Policy:
Please take note that warranty does not cover:

Damages to item done deliberately or improper handling of it.
Damages to products caused by either impact, liquid, sand or insect, natural disaster and act of God.
Modifying, repairing the product without written consent.

If there is defect on the items you receive or we send you the wrong items, please kindly contact us within 3 days and deliver back to us within 7 days.
Please keep the packaging well and return the goods as a whole.
We offer 7 days return period, with buyer paying the return postage unless item is defective upon receipt.
Policy on Out-of-Stock Items
Scenario 1:
All the products were in stock when your order was confirmed, but after your payment was confirmed, one of the products in your order went out of stock.
In this case we will ship all the in-stock products that you have ordered first and for products which are out of stock, we will ship it to you immediately once the next shipment of stock arrives or we will refund to you for those items out of stock.
Scenario 2:
The product was already out of stock when you made the order.
In this case we will ship all products in the order only when the new stock for the out of stock product arrives however, in some situations we might ship the products that are available first.
Reviews (0)
view all
back
What's in the box
1 x 49 Key Casio CTK-240 Standard Keyboard Piano 100 Tones 100 rhythms 50 Song LCD Melody (on/off)