76 Key Casio WK-240 Standard Keyboard Piano 600 Tones 152 Songs New Fashion Adult
Price

RM1,654.00

RM1,986.50

Product SKU
WK-240
Brand
Casio
Size (L x W x H)
120 cm x 40 cm x 20 cm
Availability
In Stock
Quantity
Description
Highlight
76 Key, Casio WK-240, Standard Keyboard Piano, 600 Tones, 152 Songs, New Fashion Adult
Digital Effects: Virtual Hall (1 type), Reverb (10 types), Chorus (5 types), Auto Harmonize (12 types), Arpeggiator (90 types)
Auto Accompaniment, Modes: CASIO Chord, Fingered 1, Fingered 2 (6th off), Fingered 3 (on bass), Full Range Chord, Controllers: Start/Stop, Intro, Normal/Fill-in, Variation/Fill-in, Synchro/Ending,
Key Transpose: 25 steps (-12 to +12 semitones)
Power Requirements Batteries: D-size x 6, AC adaptor: LAD-6
Dimensions (W x D x H) 1,161 x 385 x 134 mm, Weight 6.9kg (Without batteries)











Specification
Keyboard

76 piano-style keys

Touch Response

2 sensitivity levels, Off

Sound Source

AHL

Maximum Polyphony

48

Tones

600 built-in tones

Layer/Split

Layer, Split

Digital Effects

Virtual Hall (1 type), Reverb (10 types), Chorus (5 types), Auto Harmonize (12 types), Arpeggiator (90 types)

Rhythms/Patterns

180 built-in rhythms (10 user rhythms)

Auto Accompaniment

Modes: CASIO Chord, Fingered 1, Fingered 2 (6th off), Fingered 3 (on bass), Full Range Chord
Controllers: Start/Stop, Intro, Normal/Fill-in, Variation/Fill-in, Synchro/Ending

Built-in Songs

152 (Song Bank)

Song Expansion

10 songs maximum (up to 320KB total)

Lesson Function

Step Up Lesson
Phrases
Lesson Part select
Performance evaluation
Voice fingering guide

(Lesson part : right hand, left hand, both hands)

Metronome

Beats: 0, 2, 3, 4, 5, 6 (Tempo range: quarter note = 30 to 255)

Recorder

6 tracks x 5 songs (performance recording), 1 song (lesson recording), approximately 12,000 notes total, real-time recording/playback

Sampling Function

Maximum sampling capacity: :Up to 8 sounds
Maximum total sampling time: :Up to 10 seconds
Sampling sound input: MIC IN / AUDIO IN jack

Other Functions

Rhythm Editor (10 user rhythms)
Registration: 32 setups (4 sets x 8 banks)
Music Preset: 305 presets
One Touch Preset: 180 sets
Auto Harmonize: 12 types
Arpeggiator: 90 types
Preset Scale: Equal temperament + 16 types
Octave Shift: ±2 octaves
Music Challenge
Rhythm/Song controller
Piano/Organ Button
Chord Book

Key Transpose

25 steps (-12 to +12 semitones)

Tuning Control

A4 = 415.5 to 465.9 Hz (Initial Default: 440.0 Hz)

Pedals

Standard jack (sustain, sostenuto, soft, rhythm)

Display Screen

LCD with backlight

MIDI

GM Compatibility: Level1
Terminals: USB

Speakers

12cm x 2

Amp Output

2.5W+2.5W

Input/Output Terminals

HEADPHONES/OUTPUT (standard stereo jack)
SUSTAIN/DAMPER
MIC IN /SAMPLING
AUDIO IN
USB: type B

*

EXTERNAL POWER (9.5V DC)

*

USB cable (A-B type) required to use USB terminal for computer connection.

Power Requirements

Batteries: D-size x 6
AC adaptor: LAD-6

Dimensions (W x D x H)

1,161 x 385 x 134 mm

Weight

6.9kg (Without batteries)
Enhanced high-quality basic functions!
Improved sound quality and keyboard feel

All built-in tones, including piano and acoustic instrument tones,
now sound better than ever before! 48-tone maximum polyphony
provides plenty of margin to minimize the chance of notes being dropped
when tones are layered and when playing with Auto Accompaniment.
*

Acoustic & Highly-compressed Large-waveform

76 piano-style keyboard
An easy-to-play keyboard with an appearance resembling that of an acoustic piano.
Touch Response
Touch Response let's you add delicate nuances to notes by varying how much pressure you apply to keyboard keys.

Virtual Hall
Playing the keyboard simulates the acoustic effect of a concert hall, and produces reverberations that transmit a feeling of being there.

Chord Book
You can use the Chord Book to look up chords you do not know how to play. You can hear what a chord sounds like and a simple operation even shows you inverted forms of the chord, making the Chord Book a valuable reference.
Entertainment features!
Makes music more fun than ever before

Sampling function
You can sample a sound from a microphone and then play the sound on the keyboard. You also can use sampled sounds to compose music. The sampling feature is a great way to create new sounds that are highly creative.

Use a microphone connected to the keyboard's MIC IN / SAMPLING Jack to sample the sounds of things nearby.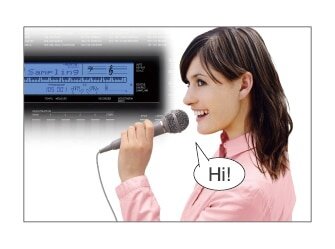 Play notes on the keyboard using the sampled sound!
If you sample the "Ting!" sound of a triangle, for example, you can then play notes with the sound
on the keyboard. You even can add reverb, vibrato, and other effects to the sampled sound.

Incorporate a sampled sound into accompaniment patterns!
You can sample a favorite musical phrase or drum sound, and use the same to replace some Auto Accompaniment drum sets.
AUDIO IN
Connecting a music player to the AUDIO IN jack causes the audio from the player to be output through the keyboard's speakers. Of course, you can play along with the audio, which means you can enjoy jamming with your favorite artists. It's a great way to liven up a party or any other type of social gathering.
MIC IN jack
Sing along with built-in songs or songs loaded from outside sources.
Music Challenge
Music Challenge tests your reaction speed by requiring you to press the keys indicated by the on-screen keyboard guide in time with the Auto Accompaniment tempo using the correct fingers indicated by the on-screen fingering guide.
Powerful lesson functions!
New lesson functions guide you along the way to music proficiency
Step Up Lesson
To master a song, it is best to break it up into short phrases, master each of the phrases, and then put everything together. Step Up Lesson does exactly that, providing you with the support you need to improve your play.

Performance Evaluation
Your lesson score appears on the display screen.
Voice Fingering Guide
If the keyboard senses you are having problems, it will help you by calling out finger numbers in a simulated human voice.
Lesson part select
(right hand, left hand, both hands)
Built-in songs cover a wide range of genres for lesson play and for your listening enjoyment. Includes Exercise phrases!
*

The Song Book does not include music for Exercise phrases. Due to copyright restrictions, some Song Bank tunes may not be included in the Song Book.
Song Expansion
You can load songs from external sources and use them for listening, play along, or even lessons.
Memory capacity is approximately 320KB, which is enough for up to 10 songs. Note that the actual number of songs that can be stored depends on the size of each individual song and other data stored in memory.
Songs you add using Song Expansion can be used for Step Up Lessons, but fingering guide will not be displayed for such songs.
Recorder and metronome features for lesson support
Designed and engineered to help you sound your best!
Play music from around the world
A wide selection of tones (600 high-quality tones)
A wide selection of musical instrument tones supports play of songs from various genres.
180 rhythms and Auto Accompaniments for Latin music and other styles from around the world (180 rhythms including 87 ethnic rhythms and 20 patterns for piano play)
An advanced Auto Accompaniment feature provides you with access to a large collection of ethnic rhythms from around the world, with a special emphasis on Latin rhythms. In addition to Bossa Nova, Samba, and other basic rhythms, you also get Cumbia, Reggaeton, Calypso, and more!
Rhythm Editor
10 user rhythms created by editing built-in rhythms
Music Preset
Selecting a Music Preset instantly changes the keyboard setup (tone, rhythm, tempo, etc.) so it is ideal for playing a specific song. The selection of setups covers a wide range of musical genres.
Preset Scale
Change the scale (temperament) of the keyboard quickly and easily to suit Oriental music or certain types of classical music.
Musical Information Function (Large, Backlit LCD)
A wealth of information is displayed to support your keyboard play.
Versatile expandability
USB port

for computer connection

*

General MIDI

(GM Level 1) support allows connection with a computer or another GM-compatible device.
*

Supported operating systems: Windows®XP Home Edition (SP2 or later), Windows®XP Professional (SP2 or later, 32-bit), Windows Vista®(32-bit), Windows®7 (32-bit, 64-bit), Mac OS®X (10.3.9, 10.4.11 or later, 10.5.8 or later, 10.6.7 or later)
For the latest news about driver and application support under Windows®7, visithere.
More powerful features and functions
Recorder

for composing and play

Registration

for storage of keyboard setups and instant recall when you need them

One Touch Preset

automatically sets up the keyboard to match the Currently selected rhythm.

Auto Harmonize

adds appropriate harmony notes to your melody automatically.

Arpeggiator

simplifies arpeggio play.
Seller note
Each CASIO musical instruments sold by us is genuine, authentic, bona fide goods come with 12 months local distributor warranty (excluded: accessories & spare parts).
These products are not grey imported, used, refurbished, discounted clearance items or items came from unknown source.
We provide official warranty certificate for each CASIO musical instrument sold by us for you to assure you of a completely hassle free and worry free ownership experience.
Delivery
Immediate purchase order handling and secure fast shipping is our commitment to our customer. All items will be shipped within 2-3 working days after we received the cleared payment notifications except for weekend or public holiday. We ship out all items by using Skynet and Poslaju courier service by default.
Delivery cut off time is 10am. Any payment made before 10am we will courier your item out on same working day. Otherwise will be courier out the next working day.
Please contact us if your item not received after 3 working days by email us at: neo123store@gmail.com or WhatsApp/Line/Viber/SMS: 017 221 1680
For latest Skynet delivery status, please check at official Skynet Tracking Site: http://www.skynet.com.my/
Stock Availability
In the event of non-stock availability for a specific order, seller would contact buyer for decision to be placed on backorder or to proceed with a full-refund thus not wasting any time for both parties.
Risk of Loss
All items purchased are made pursuant to a shipment contract. This means that the risk of loss and title for such items are passed to you upon our delivery to the courier service.
Payment
Credit card our preferred payment method for Local customer. Please provide the following IMPORTANT information's to us when you made your payment.
1. Your FULL NAME
Your Full Delivery / Shipping Address - Must provide your postal code.
Your Telephone Numbers - The Courier Company / Mail Company will try to contact you first before they deliver to your doorsteps. And also, the seller may contact you directly if there is any issue with your orders. The seller will not bear the responsibilities if the item is sent to your outdated address or delay in shipment due to missing your postal code or telephone numbers contact.
About Us
We offer variety of products include toys, Bicycle accessories, Musical accessories, collectible items and lots of the hot wanted products on marketplaces. We are working close with Local Courier Company so that we can offer FAST and SECURE Delivery service to our nationwide customer at very attractive rates!
All the products we selling on local and international site are acquired from licensed local distributor and it is genuine from manufacturer. Some products are source directly from warehouse clearances sale that why we can offer such a low price compare to others. We are very concern about our product quality, because customer satisfaction is our top priority!
We also very concern about the product shipping packaging. Extra care protective packaging is what we practicing all the time, because we want you to receive your valued item in perfect conditions.
Finally we would like to thank you all customer for their kindly support, we appreciate your feedback and we always customer comment and criticism seriously. Your sincere feedback helps us to improve our services to serve you better in the future.
Contact Us
Email: neo123store@gmail.com
WhatsApp/Line/Viber/SMS: 017 221 1680
Call Operation Hour: Monday - Friday 10am - 5pm
Policy:
Please take note that warranty does not cover:

Damages to item done deliberately or improper handling of it.
Damages to products caused by either impact, liquid, sand or insect, natural disaster and act of God.
Modifying, repairing the product without written consent.

If there is defect on the items you receive or we send you the wrong items, please kindly contact us within 3 days and deliver back to us within 7 days.
Please keep the packaging well and return the goods as a whole.
We offer 7 days return period, with buyer paying the return postage unless item is defective upon receipt.
Policy on Out-of-Stock Items
Scenario 1:
All the products were in stock when your order was confirmed, but after your payment was confirmed, one of the products in your order went out of stock.
In this case we will ship all the in-stock products that you have ordered first and for products which are out of stock, we will ship it to you immediately once the next shipment of stock arrives or we will refund to you for those items out of stock.
Scenario 2:
The product was already out of stock when you made the order.
In this case we will ship all products in the order only when the new stock for the out of stock product arrives however, in some situations we might ship the products that are available first.
Reviews (0)
view all
back
What's in the box
1 x 76 Key Casio WK-240 Standard Keyboard Piano 600 Tones 152 Songs New Fashion Adult